Precision Engineered
for True Form, Fit and Function

PGI supplies a robust line of premium and value wiper blade options for both front and rear glass. Our high-quality, easy to install wiper blades are field tested in all major DIFM and DIY markets. With coverage for over 98% of applications for all vehicles in operation, PGI has plenty of cost-effective wiper blade solutions to drive your business growth in this important aftermarket segment.
Frameless Beam Wiper Blades
PGI offers two options for frameless beam windshield wiper blades with an easy-to-use connector system for coverage of over 98% of vehicles in operation – including late model GM, Audi, VW, and Porsche vehicles.
Combining the very best features of frameless beam blades and conventional/OEM style blades to provide outstanding performance in all weather conditions and climates. If it's exceptional durability, versatility and easy installation that you seek, these hybrid blades are for you.
Conventional / OEM Wiper Blades
Our conventional wiper blades feature all-steel frames with stainless steel riveted joints and the highest quality natural rubber material for maximum durability and clean, crisp visibility in all climates.
Never forget the rear wiper blade! Our innovative rear wiper blade features extensive application coverage for over 80% of the market with only 4 part numbers to stock – dramatically reducing the amount of inventory a distributor needs to carry.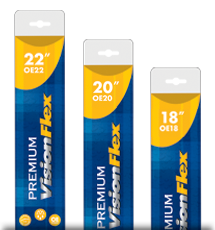 Program
Features & Benefits
Market Leading Late Model Application Coverage
Premium Guard, Inc. is always ahead of the curve in product line management – making us the well-known leader in late model applications. With PGI as your supplier, you can rest assured that you will always have the newest items before your competition.
All Makes – All Models Program
We offer a comprehensive all makes – all models program from a value positioned product line that includes all automotive filtration categories.
USA Based Product Support
Even though Premium Guard, Inc. is a pioneer in the global sourcing of aftermarket auto parts from low-cost regions of the world, we take great pride in our ability to offer world-class product support through our domestic engineering team at our headquarters in West Bridgewater, Massachusetts.
Integrated Marketing Support
When you partner with PGI you get much more than an aftermarket auto parts supplier. What sets us apart is the unique integrated marketing support dedicated to all of the private label programs we manage. We work tirelessly to make sure our customers have all of the latest field sales tools to successfully market and sell their products.
PGI delivers true turnkey private label programs tailored to your unique performance, coverage, distribution, and pricing needs.
PGI's manufacturing expertise and robust global supply base ensure sustainable business growth for our customers.
PGI can tailor application data distribution to your unique needs using industry-standard ACES and PIES.